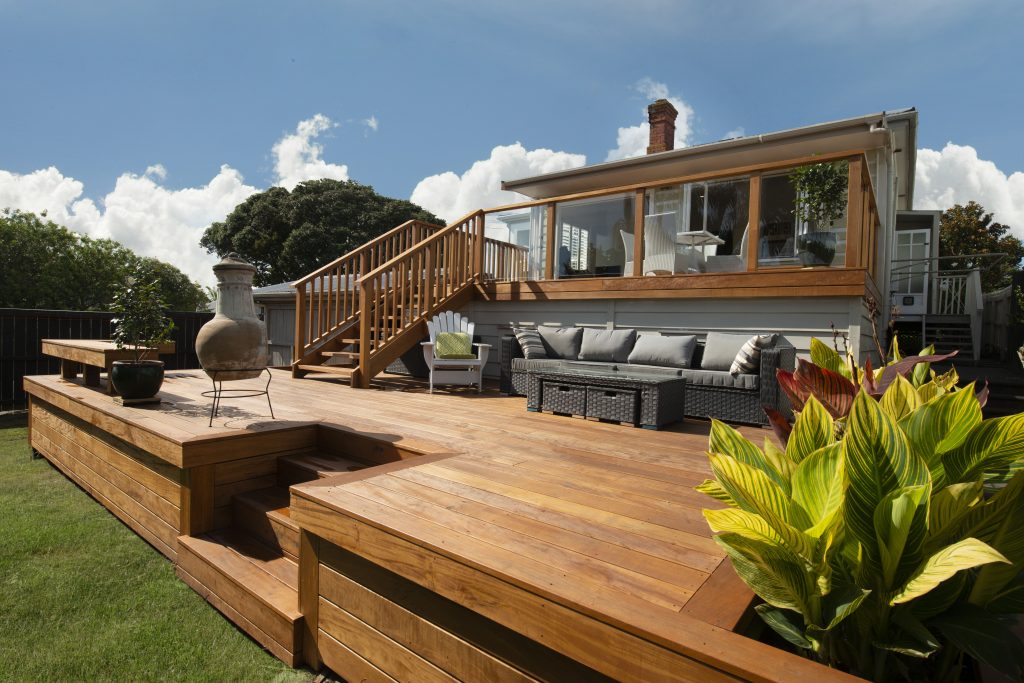 Vitex Hardwood Timber Decking Suppliers – South Pacific Timber
South Pacific Timber takes pride in delivering top-tier timber to our valued customers. Our selection includes a wide range of hardwood and softwood species, including Vitex, Kwila , Garapa and Radiata Pine decking. Additionally, we supply to timber flooring, cladding, fencing, and other solutions.
For premium timber suited to your decking requirements, consider Vitex timber hardwood decking. Vitex, known for its durability and resistance to rot and decay, is a hardwood species commonly used for outdoor decking and furniture. Here's why a Vitex deck could be perfect for you:
Vitex stands as a robust hardwood variety, defying our harsh NZ weather, termites, and decay. It's a preferred choice for outdoor decking that guarantees performance for decades to come. Its density and tough character enable it to withstand heavy use and the elements alike, ensuring added value and and provide no headaches over a long long time. Vitex carries a Class 2 Durability classification meaning as well as residential, it is a popular solution for commercial decking and boardwalks.
Vitex decking boasts minimal shrinkage, translating to minimal movement and reduced likelihood of warping or twisting over time. This stability makes it ideal for projects where structural integrity is paramount. With Vitex Hardwood Decking, your deck will maintain its original shape and dimensions, through harsh and fluctuating weather conditions. Correct maintenance is critical to ensuring it's performance, read more about maintaining decking here
Vitex hardwood decking boasts a natural beauty accentuated by its graceful grain pattern and uniform texture, granting the timber a timeless appearance. Vitex's natural golden-brown hue can be preserved through regular oiling or left to weather into a silvery-grey shade, providing diverse design possibilities. Whether you favor a classic or contemporary aesthetic, Vitex offers an attractive and versatile hardwood decking option.
Vitex is sourced from sustainably managed forests in the Solomon Islands, rendering it an eco-friendly and responsible choice for decking. Our Vitex comes from low-impact community logging operations. With sound management practices, Vitex can serve as a long-lasting and renewable resource, bolstering Pacific community economies while offering an environmentally conscious timber solution.
Working with Vitex decking and flooring is effortless, as it readily cooperates with standard woodworking tools. You can cut, drill, and sand it to attain your desired shape and finish. This excellent workability makes it a prime choice for both DIY enthusiasts and professional builders alike. With Vitex decking's superior workability, achieving a polished, professional finish is a breeze.
Get your Vitex Timber Hardwood Decking Locally
South Pacific Timber supplies Vitex Hardwood Decking in various sizes and lengths to accommodate your decking needs. We also offer prompt delivery services, ensuring your timber arrives on time and in prime condition. All our Vitex is stored undercover and out of the elements, in comparison to other suppliers who store it outside.
For correct installation procedures of hardwood decking and flooring in your home or garden, adequate ventilation, proper board spacing, and suitable fixings are essential. The South Pacific Timber team can provide expert guidance on the precise installation process for your decking project at no extra cost.
Vitex decking serves as an excellent choice for those seeking a durable and sustainable timber solution. We are dedicated to delivering top-quality Vitex decking to our customers. Contact South Pacific Timber today to explore our timber products and services further.
"Think Timber? Think South Pacific Timber. Crafted locally, since 1988. Reach out to our timber experts to discuss your next project."